Archives
Contact
 
For all requests related to the archives, please fill in the forms provided in each section below.
General info: T. + 32 2 642 24 50 
OPENING HOURS
Rue de l'Ermitage 55, 1050 Ixelles
Tuesday - Friday by appointment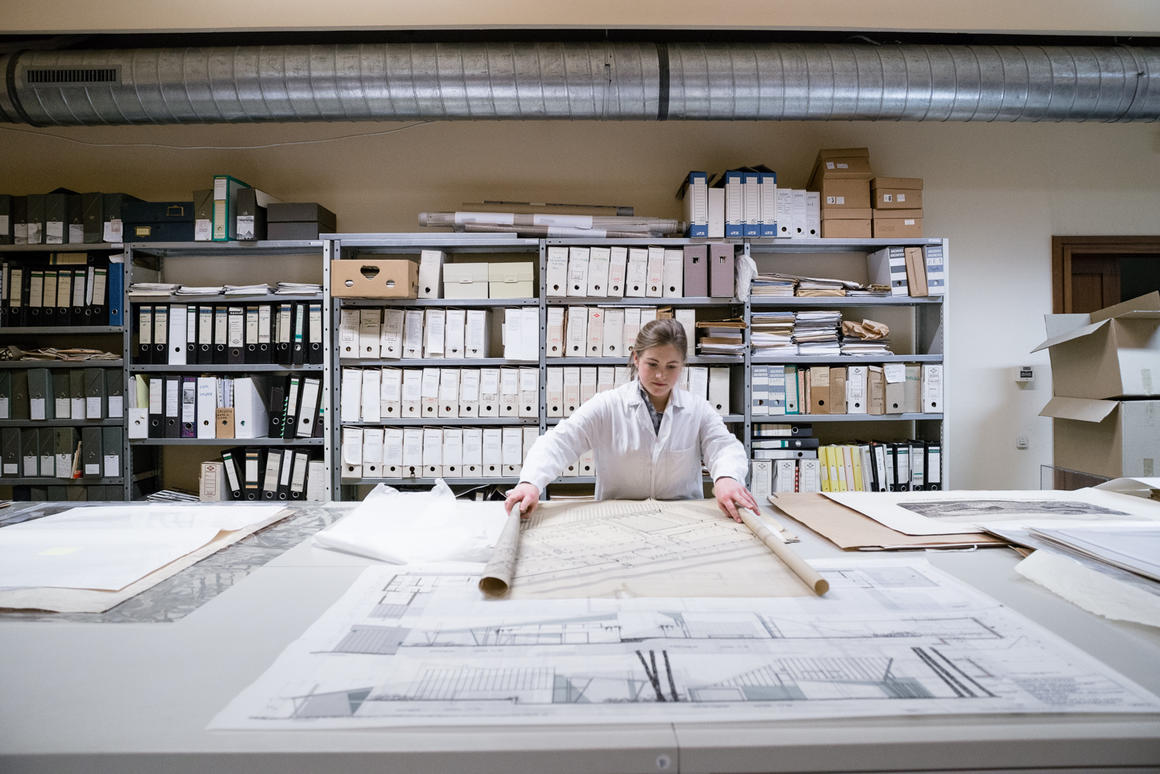 CIVA holds archives and collections stemming from Belgian protagonists in the realm of architecture and landscape architecture in Belgium and abroad, such as Victor Bourgeois, René Pechère, Huib Hoste, Renaat Braem, Jules Buyssens, Victor Horta, Robert Puttemans, Paul Duvigneaud, Gaston Eysselinck, Maxime and Fernand Brunfaut. Our archives comprise architectural plans, maps, models, ancient photographs, written archives, pieces of furniture, textiles, costumes, stage sets, audio and audio-visual archives. The collection encompasses Modern Architecture, Garden, Landscape and Urban Ecosystem archives.
CIVA's collections are constituted of archival records from the practice of architecture and landscape architecture, and from the field of urban ecosystems in Belgium. They include a wide variety of media: graphic archives (plans, drawings, sketches...), written archives (correspondence, personal papers, cost quotations, construction site supervision…), photographic documents, but also models, audio and audio-visual archives, furniture, wallpapers and fabrics. The main periods covered are the19th and the 20th centuries in Belgium. Our collections emanate from the integration in 2016, within CIVA, of the collections of the Archives d'Architecture Moderne (AAM), the Sint-Lukasarchief, the René Pechère Library and the Paul Duvigneaud Centre. We continuously enrich our collections with new acquisitions. Part of the collections remain property of the Archives d'Architecture Moderne. Their conservation is guaranteed by financial support from the Fédération Wallonie-Bruxelles. They are accessible to researchers, students, professionals and individuals. They are also valorized through exhibitions, publications, studies and various events organised by CIVA and by its partners. In January 2019, 4400 photographic negatives from the Kessels fonds were digitized and made available online, serving as a witness of Belgian architecture and landscape between the 1920s and 1960s. In total, some 500 fondsmake CIVA the most important archival centre of architecture and landscape architecture in Belgium.
The Modern Architecture section holds collections related to architectural practice. Among its holdings, the fonds of  Victor Bourgeois, Huib Hoste, Renaat Braem, Jean-Jules Eggericx, Louis-Herman De Koninck, Gaston and Maxime Brunfaut, Antoine Courtens, Jos Bascourt, Alban Chambon, Henry Lacoste, Paul Hamesse, Akarova, Coulon & Noterman, Groupe Structures, Groupe Alpha, Jacques Cuisinier but also Victor Horta and Henry van de Velde.
The Garden, Landscape & Urban Ecosystem section holds archives related to landscape architectural practice, amongst which the fonds of René Pechère, Jules Buyssens, JNC, Georges Neuray, Jacques Boulanger-Français, as well as archives from national and international institutions such as IFLA (International Federation of Landscape Architects), the International Committee of Historical Sites and Gardens ICOMOS-IFLA or the Association Belge des Architectes de Jardins et des Architectes Paysagistes - Belgische Vereniging van Tuin- en Landschapsarchitecten (ABAJP-BVTL). CIVA also conserves the archives of Belgian scientist Paul Duvigneaud, dedicated to ecology and urban ecosystems.
Since 2020, CIVA is a member of the Network of European Landscape Architecture Archives (NELA). NELA is a network aimed at enhancing international cooperation between archive centres dedicated specifically to collecting, preserving, valorizing and diffusing landscape architecture archives. The CIVA archives collection, initiated by Belgian landscape architect René Pechère, is one of the oldest of its kind in Europe, and comprises about 50 fonds related to landscape architecture. Read the NELA Mission Statement here.