KANAL: Thinking - BOOK #1 (EN)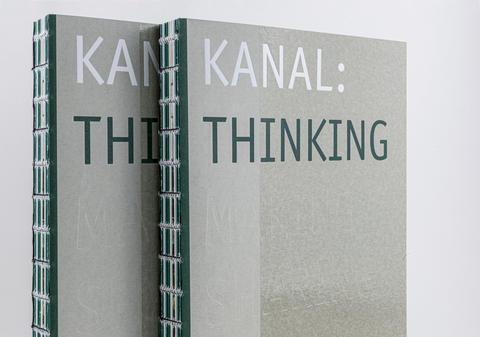 KANAL : A TRIPTYCH, is a publication in three parts published over time.
KANAL is a new kind of cultural institution. It is about public space and the spaces between. It is about the display and making of art and performance, event and happening. It is about curation. It is about education and learning. It is about omni-directional exchange. It is about the city, about accepting the city, about making the city. It is about a Stage for Brussels.
BOOK #1: THINKING, is about the ideas of the project from the competition to the Building Permit and includes written texts, visual essays, drawings and photographs. BOOK #2: MAKING, is about the making and materiality of the project, about the technical drawings and material sampling, about the colour strategy and a sense of unfinishedness and about the construction and mock ups. BOOK #3: SHARING, is about the finished spaces and what happens after handover to the curators, users and public. It records the occupied and working public spaces, revealing the spontaneity and creativity of use.
BOOK #1 outlines our reactions to the building itself and to the way we chose to work in a collaborative way. The underlying objective is to describe our adopted process of designing – questioning the meaning of an art institution and questioning the usual conventions of architectural practice. The process of showing art in a public space – allowing the existing building to become a key protagonist. The process of connecting to community – encouraging the breaking down of physical, social and mental barriers. The process of production and education – making them both spontaneous and visible actions within the everyday life of KANAL.
Texts Stephen Bates, Jitse van den Berg, Kristiaan Borret, Roger Diener, An Fonteyne, Yves Goldstein, Philippe Vierin, Mathias Müller, Daniel Niggli, Anne Pontegnie, Elsbeth Ronner, Marnix Rummens, Peter Cachola Schmal, Antje Stahl, Mark Tuff and contributions by Secchi Smith and Kim Zwarts.
17 x 23.5 cm
Paperback, thread stitched
212 pages
Colour and black and white illustrations
ISBN: 9789464516821
London 2022
Language: English
Retour e-shop