Closing weekend: A.J. Lode Janssens - A Balloon Home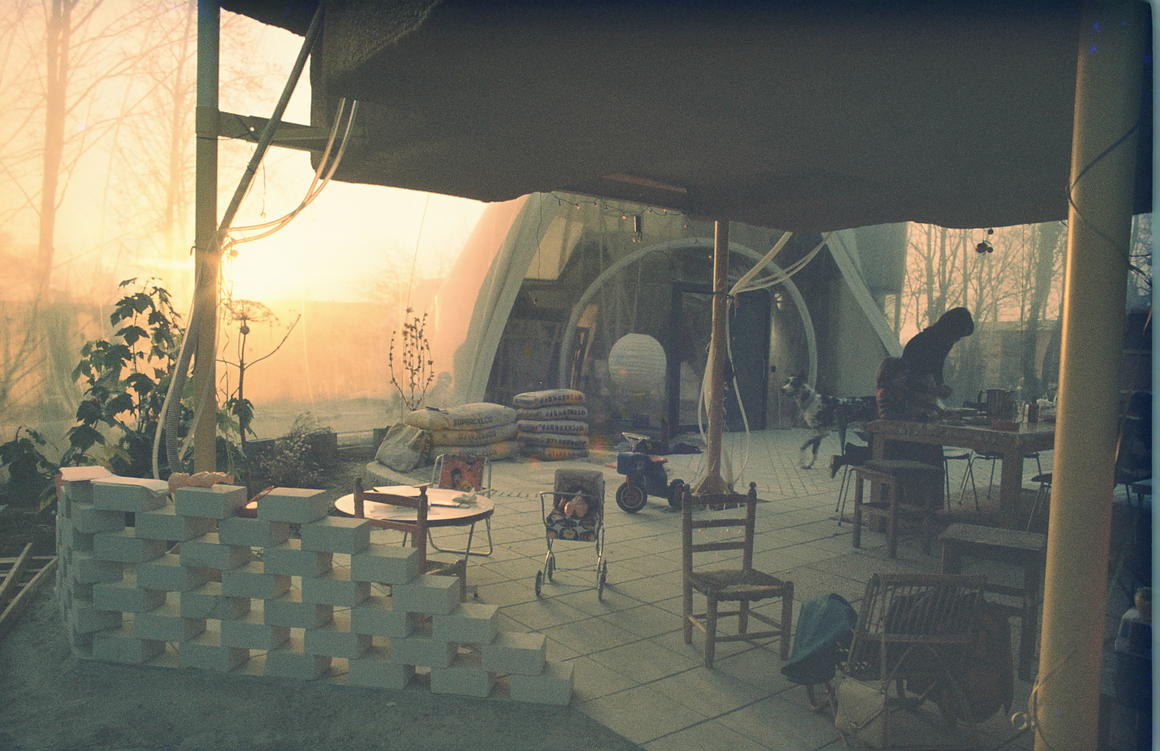 © A.J. Lode Janssens Archive, 1976.
On the occasion of the last weekend of the exhibition "A.J. Lode Janssens - A Balloon Home", the documentary "A Gentle Pressure" is shown on loop.
Dates
Saturday, March 26, 2022
Sunday, March 27, 2022
Place
CIVA, Rue de l'Ermitage 55, 1050 Brussels
Tickets
[Film + Expo]
standard rate: 5€
teachers, groups, -26, job seekers, +65: 2,50€
paspartoe: 2€
article 27: 1,25€
children under 18, museumpassmusées, Brussels Card, Subbacultcha member, press, ICOM, CIVA Friends: 0€
Curator(s)
Peter Swinnen & Nikolaus Hirsch
With the support of
De Nationale Loterij / La Loterie Nationale

The CIVA exhibition, curated by Peter Swinnen and Nikolaus Hirsch, on Janssens' prolific yet understudied architectural attitude centers on his Balloon (Humbeek, 1973–82)—a temporary pneumatic home experiment, an uncompromising ephemeral attempt at de-architecturalization and harmonizing with nature. An experiment with and through life itself. The exhibition showcases a ¼ scale model of the structure (produced by CRIT.architects) as its centerpiece, allowing the public to fully grasp the architect's experiment. Together with original and hitherto unexhibited archival material, the exhibition highlights Janssens' trial-and-error spatial research practice. Additionally, the exhibition features an installation by Marc Godts which acts as an atmospheric approach to A.J. Lode Janssens' experiment. The SLIDEMONSTER is a cluster of 6 heavy-duty projectors and media-players mounted on a made-to-measure support-structure, projecting a selection of the original slides of the balloon. Within the framework of the exhibition, a masterstudio with students of the KU Leuven Faculty of Architecture encouraged students to delve into physical and psychological aspects of the balloon home experiment. 
It's extremely difficult to get a hold of A. J. Lode Janssens, both literally and figuratively. There are many reasons why to not publish on Janssens and his spatial work, the foremost reason being that he himself has always actively resisted any form of "publicity"—a trait that can be traced back to his heartfelt love-hate relationship with the architecture discipline. It's as if he's constantly on the lookout to settle an account in and with architecture. So why not grant Janssens the anonymity and serenity he so aspires to have? Sometimes architecture is so authentic and brutally honest that it simply cannot remain concealed. Producer Peter Swinnen and director Bertrand Lafontaine have brought together a unique selection of witnesses, including Janssens himself, to reassess the Balloon, as well as original, unreleased footage.