Debora Silverman (SOLD OUT)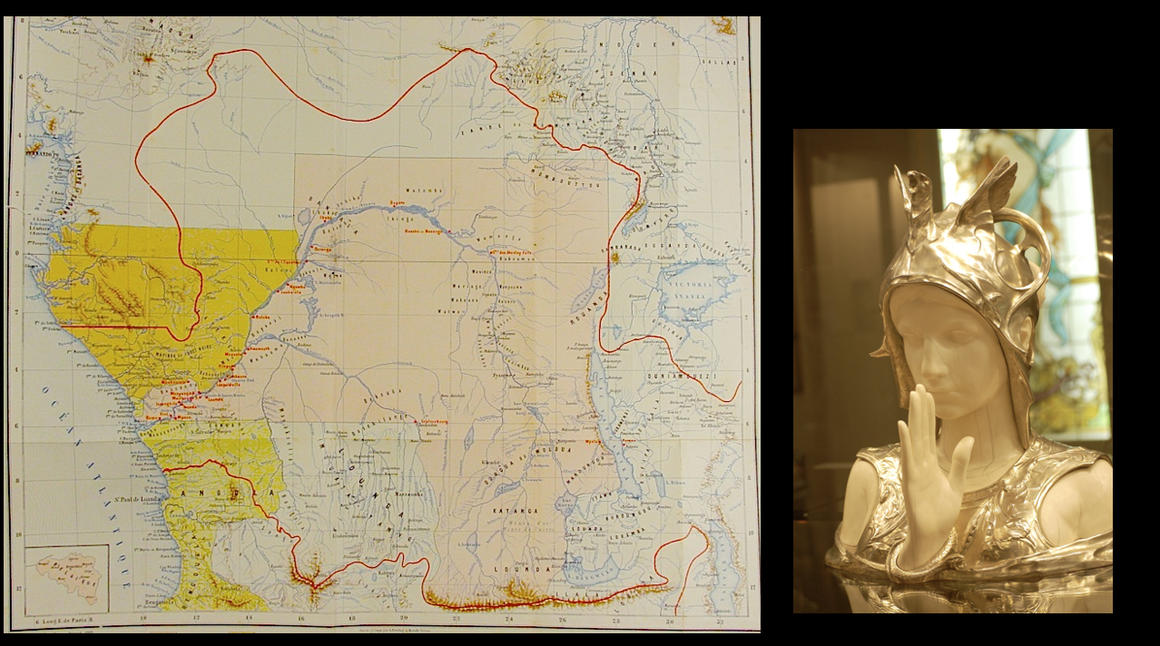 Image at left: Map of expanding État Indépendant du Congo, 1895, Mouvement Geographique Image at right: Charles Van der Stappen, Mysterious Sphinx, 1897
© Koninklijke Musea voor Kunst en Geschiedenis, Brussel
Style Congo, "Art Nouveau, Art of Darkness": Reflections on Reclaiming Belgium's Imperial Modernism
In her keynote lecture, Debora Silverman, Los Angeles based Distinguished Professor of History and Art History at UCLA, returns to publications that provide a historical anchor for the exhibition Style Congo. Heritage & Heresy.
"My series of articles explored Belgian Art Nouveau—known as "coup de fouet" or "whiplash style"—as a specifically Congo nature style, created from Congo raw materials and inspired by Congo motifs. Part One of the lecture identifies scholarly sources and political events that shaped my thinking as I came to define Belgium's "imperial modernism" in the 1890s. Part Two underscores the importance of distinguishing between "imperialism" from "colonialism," highlighting the special character of the Congo Free State (1885-1908) as a distant, entrepreneurial empire of extraction and its impact on Belgian Art Nouveau. The centerpiece of the lecture offers a close reading of two examples of Style Congo at 1897: Henry Van de Velde's "Export Room" at the Brussels/Tervuren World's Fair, and Victor Horta's luxuriant home for Secretary of State of the Congo, Edmond Van Eetvelde.
The lecture ends by reemphasizing decolonization as a process of iconoclasm and excavation: the pulling down of statues and recovering Congo traces also requires digging down and bringing to the surface deeper historical structures and entanglements. I conclude with an exemplary case of moving from wreckage to reclamation and regeneration in Sammy Baloji's statue on the shores of the Scheldt, La Main longue."
Debora Silverman
Place
CIVA, Rue de l'Ermitage 55, 1050 Brussels
Coproduction
KANAL - Centre Pompidou / Living Traces & Twenty Nine Studio. With the support of Brussels 2030.
Documents

debora_silverman.pdf
(40.81 KB)
Debora Silverman is Distinguished Professor of History and Art History at UCLA, where she holds the University of California Presidential Chair in Modern European History, Art and Culture. Her prize-winning books include Selling Culture: Bloomingdale's, Diana Vreeland, and the Aristocracy of Taste in Reagan's America; Art Nouveau in Fin-de-Siècle France: Politics, Psychology, and Style;  and Van Gogh and Gauguin: The Search for Sacred Art.  Professor Silverman's recent publications explore Gustav Klimt's marble mosaic frieze in the Palais Stoclet; the postcolonial painting of American African artist Meleko Mokgosi; "Black Lives Matter" in Belgium; the impact of The Congo Free State on fin-de-siècle Belgian modernism; Art Nouveau's "whiplash style" as "Style Congo;" and the history and politics of memory of the Tervuren Royal Museum for Central Africa. Her two books nearing completion are on Belgian Art Nouveau as "imperial modernism," entitled Art of Darkness; and 'Modernity Without Borders': Politics, Congo, and the Avant-Garde in King Leopold II's Belgium.